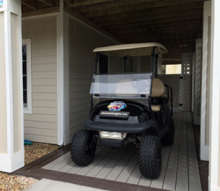 ATTENTION HOMEOWNERS!
Capture more rental weeks!

Increase your rental income!

Get more return guests season after season!

Turn your investment home into a rental machine!

Add an LSV or golf cart to your home's amenity package!
Contact us to learn about our unique Homeowner Program.
---
RENTERS FORM:
If you are renting a home that is part of our Homeowner Program, and provides either an LSV (street-legal golf cart) or a non-street legal golf cart as an amenity, please fill out the form below.
All renters must provide proof of insurance and ID prior to arrival!